Monday, August 19, 2013 at 3:54PM
By John Mauldin:
We are told they don't ring a bell when bull or bear markets start. That may be true, but it does seem that there are similar signs as we approach turning points. This week in my reading I have been struck by a number of signs that suggest that, if we haven't reached a top in the latest bull market cycle, at least a pause may be in order. Let's review a few of them. The first comes from Charles Gave, who notes that margin debt is now back to extremes.
I started in the fascinating business of trying to understand why markets go up and down in February 1971. The old money manager in the French bank which had hired me straightaway said: "Charles, you will never get rich in this business using other people's money. Do NOT leverage your positions. Leverage might be all right for fellows who deal in real estate, but for those in stock markets, it only brings misery."
Being young and smart (or so I thought), I assumed this advice could not conceivably apply to me. A few margin calls later, accompanied by quite a string of sleepless nights, and I came to realize that the old gentleman had a point.
Now that I am quite old myself and certainly not as smart as I thought I was in 1971, I find myself tracking the moves of the poor souls who believe they can leverage profitably. Then I do the opposite. This is why Charles the 70-year-old is watching what Charles the 30-year-old is doing—to do the reverse. Have a look at the graph.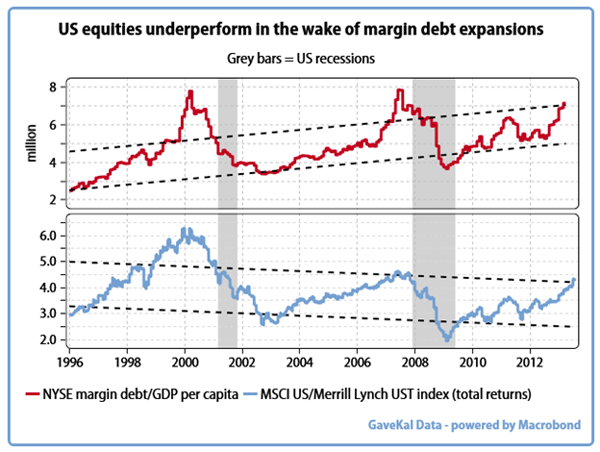 The red line at the top is New York Stock Exchange margin debt as a multiple of US GDP per capita, the black line on the bottom pane is a ratio between US stocks and (government) bonds. It seems that the fellows using other people's money to get rich have an uncanny ability to leverage up when shares become overvalued vs. bonds. They also seem to get most enthusiastic just before a recession, usually after a prolonged outperformance of equities against bonds.
They leverage in order to participate as much as possible in what looks like a free ride, with no downside risk. There are always a number of good reasons why the stock market cannot change direction. Take your pick: "technology has created a new type of economy," or "house prices never go down," or "we have recently discovered an infinite source of wealth called QE." These reasons can be added to a long roster of other excuses such as, "I can get insurance against the next market decline" (1987) or "the Fed will never, ever allow for positive real rates to appear" (1979) or "oil prices cannot quadruple" (1974).
The rise in the stock market this past year has not been because of fundamentals. Earnings in the nonfinancial sector have been flat. Mark Gongloff writes on the HuffPost site:
Bloomberg figures that bank earnings rose 27% in the second quarter, which was the only thing keeping the S&P 500 from reporting a net drop in profits for the quarter. With the banks, S&P 500 profits were up 3.3% in the quarter, Bloomberg estimates. Without them, S&P 500 profits would have been down 1.2%.
Lousy profits have not kept the S&P 500 from gaining nearly 19 percent so far this year. But even that performance trails the financial sector, which is up 26 percent this year. The banks topped the broader market last year, too, doubling the broader market's gain. And banks have managed all this despite never-ending scandals, onerous regulations and the scorn of an angry nation.
The Wall Street Journal suggests that non-financial companies might have finally reached the limit of how much profit they can squeeze out of a dour economy by laying off workers and cutting costs. Banks, on the other hand, have the useful ability to skim rent from even the lamest economy. They're proving it now and finding profits in innovative ways, like moving aluminum around in warehouses to create a sense of scarcity and drive up prices." (Huffington Post)
This lack of profits is showing up in the economy. Nominal GDP growth over the past year was the slowest ever recorded outside of a recession, as the following chart from the London Telegraph demonstrates.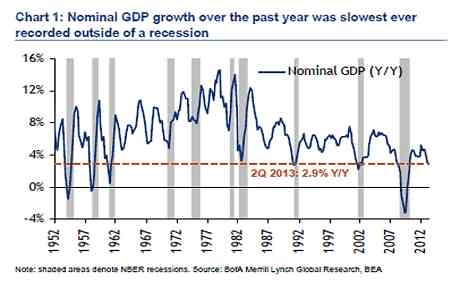 And because the rise in the stock market has not been accompanied by an increase in earnings, price-to-earnings ratios have risen back to levels that suggest the market is getting closer to stalling out. I post the following tables from the Wall Street Journal. While the Dow and the S&P 500 are not at nosebleed levels, they are certainly pricey. The Russell 2000 and the NASDAQ, on the other hand, are seriously overpriced in terms of earnings.
To continue reading this article from Thoughts from the Frontline – a free weekly publication by John Mauldin, renowned financial expert, best-selling author, and Chairman of Mauldin Economics – please click here.
© 2013 Mauldin Economics. All Rights Reserved.
Thoughts from the Frontline is a free weekly economic e-letter by best-selling author and renowned financial expert, John Mauldin. You can learn more and get your free subscription by visiting www.MauldinEconomics.com.
Please write to subscribers@mauldineconomics.com to inform us of any reproductions, including when and where copy will be reproduced. You must keep the letter intact, from introduction to disclaimers. If you would like to quote brief portions only, please reference www.MauldinEconomics.com.
To subscribe to John Mauldin's e-letter, please click here: www.mauldineconomics.com/subscribe
To change your email address, please click here: http://www.mauldineconomics.com/change-address
Thoughts From the Frontline and MauldinEconomics.com is not an offering for any investment. It represents only the opinions of John Mauldin and those that he interviews. Any views expressed are provided for information purposes only and should not be construed in any way as an offer, an endorsement, or inducement to invest and is not in any way a testimony of, or associated with, Mauldin's other firms. John Mauldin is the Chairman of Mauldin Economics, LLC. He also is the President and registered representative of Millennium Wave Advisors, LLC (MWA) which is an investment advisory firm registered with multiple states, President and registered representative of Millennium Wave Securities, LLC, (MWS) member FINRA and SIPC, through which securities may be offered. MWS is also a Commodity Pool Operator (CPO) and a Commodity Trading Advisor (CTA) registered with the CFTC, as well as an Introducing Broker (IB) and NFA Member. Millennium Wave Investments is a dba of MWA LLC and MWS LLC. This message may contain information that is confidential or privileged and is intended only for the individual or entity named above and does not constitute an offer for or advice about any alternative investment product. Such advice can only be made when accompanied by a prospectus or similar offering document. Past performance is not indicative of future performance. Please make sure to review important disclosures at the end of each article. Mauldin companies may have a marketing relationship with products and services mentioned in this letter for a fee.
Note: Joining The Mauldin Circle is not an offering for any investment. It represents only the opinions of John Mauldin and Millennium Wave Investments. It is intended solely for investors who have registered with Millennium Wave Investments and its partners at http://www.MauldinCircle.com (formerly AccreditedInvestor.ws) or directly related websites. The Mauldin Circle may send out material that is provided on a confidential basis, and subscribers to the Mauldin Circle are not to send this letter to anyone other than their professional investment counselors. Investors should discuss any investment with their personal investment counsel. John Mauldin is the President of Millennium Wave Advisors, LLC (MWA), which is an investment advisory firm registered with multiple states. John Mauldin is a registered representative of Millennium Wave Securities, LLC, (MWS), an FINRA registered broker-dealer. MWS is also a Commodity Pool Operator (CPO) and a Commodity Trading Advisor (CTA) registered with the CFTC, as well as an Introducing Broker (IB). Millennium Wave Investments is a dba of MWA LLC and MWS LLC. Millennium Wave Investments cooperates in the consulting on and marketing of private and non-private investment offerings with other independent firms such as Altegris Investments; Capital Management Group; Absolute Return Partners, LLP; Fynn Capital; Nicola Wealth Management; and Plexus Asset Management. Investment offerings recommended by Mauldin may pay a portion of their fees to these independent firms, who will share 1/3 of those fees with MWS and thus with Mauldin. Any views expressed herein are provided for information purposes only and should not be construed in any way as an offer, an endorsement, or inducement to invest with any CTA, fund, or program mentioned here or elsewhere. Before seeking any advisor's services or making an investment in a fund, investors must read and examine thoroughly the respective disclosure document or offering memorandum. Since these firms and Mauldin receive fees from the funds they recommend/market, they only recommend/market products with which they have been able to negotiate fee arrangements.
PAST RESULTS ARE NOT INDICATIVE OF FUTURE RESULTS. THERE IS RISK OF LOSS AS WELL AS THE OPPORTUNITY FOR GAIN WHEN INVESTING IN MANAGED FUNDS. WHEN CONSIDERING ALTERNATIVE INVESTMENTS, INCLUDING HEDGE FUNDS, YOU SHOULD CONSIDER VARIOUS RISKS INCLUDING THE FACT THAT SOME PRODUCTS: OFTEN ENGAGE IN LEVERAGING AND OTHER SPECULATIVE INVESTMENT PRACTICES THAT MAY INCREASE THE RISK OF INVESTMENT LOSS, CAN BE ILLIQUID, ARE NOT REQUIRED TO PROVIDE PERIODIC PRICING OR VALUATION INFORMATION TO INVESTORS, MAY INVOLVE COMPLEX TAX STRUCTURES AND DELAYS IN DISTRIBUTING IMPORTANT TAX INFORMATION, ARE NOT SUBJECT TO THE SAME REGULATORY REQUIREMENTS AS MUTUAL FUNDS, OFTEN CHARGE HIGH FEES, AND IN MANY CASES THE UNDERLYING INVESTMENTS ARE NOT TRANSPARENT AND ARE KNOWN ONLY TO THE INVESTMENT MANAGER. Alternative investment performance can be volatile. An investor could lose all or a substantial amount of his or her investment. Often, alternative investment fund and account managers have total trading authority over their funds or accounts; the use of a single advisor applying generally similar trading programs could mean lack of diversification and, consequently, higher risk. There is often no secondary market for an investor's interest in alternative investments, and none is expected to develop. You are advised to discuss with your financial advisers your investment options and whether any investment is suitable for your specific needs prior to making any investments.
All material presented herein is believed to be reliable but we cannot attest to its accuracy. Opinions expressed in these reports may change without prior notice. John Mauldin and/or the staffs may or may not have investments in any funds cited above as well as economic interest. John Mauldin can be reached at 800-829-7273.
Wolf here. I would love to hear from you. You can send me an email to:
testosteronepit [at] gmail.com
I will post some of the comments, articles, corrections, points of contention, etc. under the tab "Readers Speak Up," if I find them relevant, interesting, awesome, civilized, etc. Funny is always good.
- Include the title or link of the article you're responding to.
- Let me know the name (alias is ok) under which you want me to publish your writing.
- If you have a blog, include a link (self-promotion is ok)
- I'll try to send you confirmation once it's published.
- If you DON'T want me to post your writing, if you want me to keep it private, please let me know!
- I will NEVER publish your email address!!!
- Spam, nonsense, hateful stuff, etc. will be deleted.
by
Contributor
| |
Print Article
|
Email Article